CM Glass is a custom glass studio specializing in various types of glass manufacturing.
Glass Countertops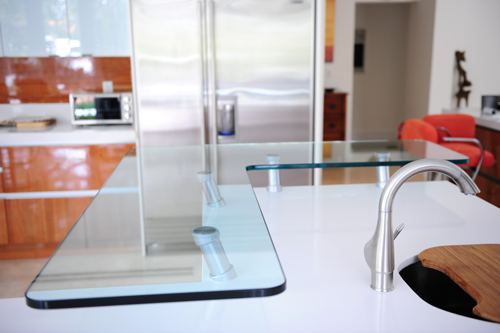 Create a smooth clean look while adding a healthy dose of elegance by choosing a glass countertop. Glass countertops can be designed to your specifications so you get the exact fit and look you desire. Custom glass countertops are light, bright, and contemporary when compared to hard stone surfaces.
Whether the glass is clear, colored or textured, you can combine your glass countertops and table tops with many other elements to help make it one-of-a-kind. Heat and stain resistant, glass countertops are as easy to maintain as stone countertops.
CM Glass has over 30 years of experience working with glass countertops for all types of furniture. We can help you design a custom glass countertop in Miami that will match your desired look. Come into our showroom today or give us a call and we will be happy to talk about your project to get you the perfect custom glass countertop to match your style.
Custom Glass Countertop Miami: The Perfect Alternative
Over the years, CM Glass has produced innumerable unique solid glass countertops that are one-of-a-kind and made to our customers' strict specifications. We have helped beautify kitchens, kitchen islands, bar tops, bathroom vanities, table tops, and all types of furniture.
Infinite Possibilities
Custom glass has the ability to be fabricated in an infinite variety of textures, patterns, shapes, and colors. Every single project means a new opportunity to create a new, distinctive, and exciting piece of art that will bring years of enjoyment for our customers. Also, adding a glass top to your already perfect furniture pieces, will add years of life to your furniture by protecting it from the elements.
Unique Pieces
Any time you are looking for something that will truly be a showstopper either for your home or business, consider the beauty and uniqueness of a custom-made glass countertop or table top. You know you will be getting a product that will offer you much pleasure.
Expert Advice
Talk to our in-house experts about your glass or mirror ideas, we will help you realize them so that you obtain a final product that will match or exceed your expectations. You can be sure that your custom glass countertop will be an especially attractive choice wherever it will be showcased.
Our team of interior design and specialty glass contractors will help you design a final glass or mirror product that will be completely unique and original. Visit our showroom today and let us help you make it a reality.
Some Glass and Mirror Inspiration
At CM Glass, we have the ability to fabricate glass and mirror products in infinite combinations. Incorporating LED backlighting makes our glass products shine even brighter. Strong and easy to clean, these materials are ideal for today's homes.
Below, you will find a list of some of the applications our customers have requested in the past. Here is some inspiration to get you started:
For Your Kitchen
Thick textured glass countertops.
An island in full-color glass to match or contrast your countertops
LED-backlit glass kitchen countertop and backsplash
Glass-topped, tiered bar top serving counters
For Your Bathroom
Sink surrounds in colored glass, your choice of finish
Custom backpainted countertops and matching backsplashes
Glass-topped makeup vanities with mirror
For The Rest of Your Home
Glass-topped bar with your choice of backlighting
Glass-topped outdoor kitchens and barbecue islands
Poolside glass-topped bars and eating areas
All of the above are not just eye-catching, they are long-lasting and very easy to clean.
Advantages of Custom Glass Countertops and Table Tops
Decades ago, homeowners had very little choice when it came to designing their custom kitchens and furniture. Dealing with grout became a daily struggle with very sad results, while all those nooks and crannies served as the perfect hiding place for gunk and bacteria to accumulate.
When Formica came out, it was celebrated everywhere since it offered easier cleaning than tile. However, the lifespan of Formica left something to be desired.
Then came the era of marble, granite, and stone that, while also beautiful and long-lasting, cannot compete with glass when it comes to its inherent strength and unmatched beauty.
Additionally, glass in countertops and tabletops is much more sanitary than other porous surfaces.Glass is also stain-proof. Forget about battling with fingerprints and watermarks when your surfaces are covered with textured and colored glass. Clean your glass countertops and tabletops with a glass cleaner and paper towels. You can use regular towels to dry wet areas.
Glass Countertop Gallery
Browse through some of our recent work by visiting our Mirror and Custom Glass Countertop Miami Gallery.
Our custom glass and mirror gallery has beautiful photos of projects we have completed in the past. Viewing our gallery can inspire new ideas or add to your current ones.
Either way, we hope you enjoy the custom glass and mirror gallery! If you prefer to see our work up close, please visit our showroom.
We hope to see you soon to get your glass countertop made just for you.
TAKE ME TO THE GALLERY