Glass Countertops
Create a smooth clean look while adding a healthy dose of elegance by choosing a glass countertop. Glass countertops can be designed to your specifications so you get the exact fit and look you desire. Glass countertops are light, bright and contemporary when compared to hard stone surfaces. Whether the glass is clear, colored or texture, you can combine your glass countertops with many other elements to help make it one of a kind. Heat, stain and scratch resistant, glass countertops are as easy to maintain as stone countertops. CM Glass has over 30 years experience working with glass countertops. We can help you design a countertop that will match your desired look.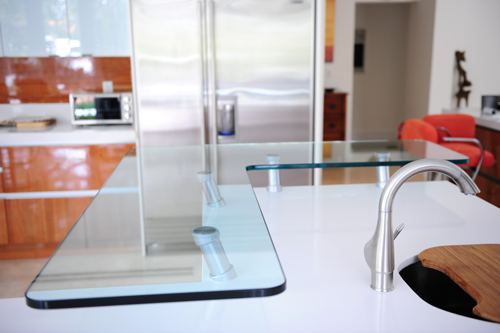 Glass Countertop Gallery
Browse through some of our recent work by visiting our Glass Countertop Gallery. Our gallery has beautiful photos of projects we have completed in the past. Viewing our gallery can inspire new ideas or add to your current ideas. Either way, we hope you enjoy the gallery! If you prefer to get see our work up close please visit our showroom. We hope to see you soon.
TAKE ME TO THE GALLERY