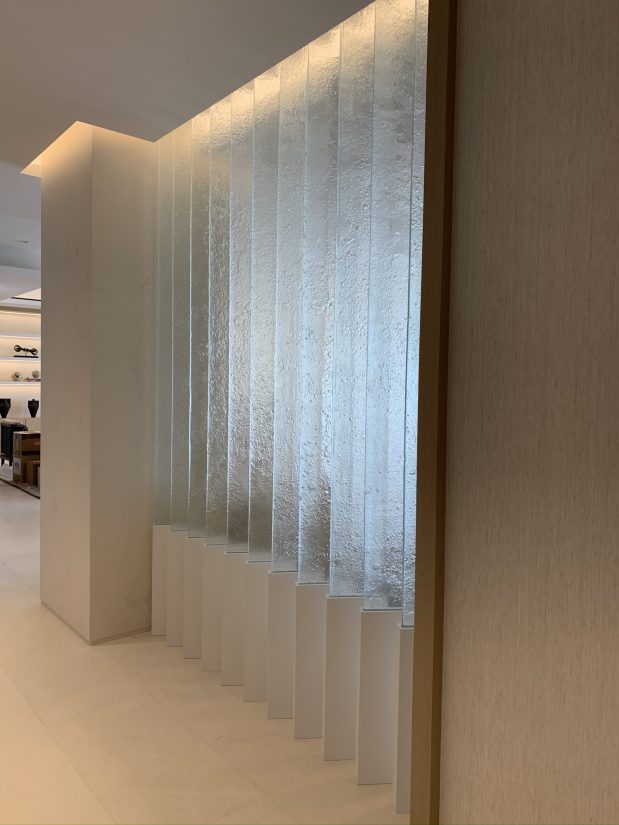 Frosted glass is the perfect middle ground between style and privacy. If you would like to incorporate glass into your home or business without worrying about transparency, frosted glass is a great option.
Because it is an opaque type of glass while also being translucent, it's the perfect option for windows, walls, exterior doors, bathroom doors, showers, and more. CM Glass is a custom glass studio that specializes in a variety of glass manufacturing, including custom frosted glass.
What Is Frosted Glass?
Frosted glass is a type of privacy glass that has an opaque surface that still allows light to pass through. This is achieved by sandblasting or acid-etching clear glass sheets. Alternatively, a thin film of vinyl can be sprayed onto the clear glass sheet.
When light hits the surface of frosted glass, the frosting scatters the light regardless if it was sandblasted or acid etched. This diffused light obscures visibility, making frosted glass a good option for privacy. In fact, frosted glass allows you to have the benefits of both privacy and transparency!
Customization Options For Frosted Glass
At CM Glass, we are happy to discuss customization options with you to ensure you can create exquisite designs for your home or office.
With customers interested in incorporating custom frosted glass in their bedrooms, cabinets, windows, showers, bathrooms, and other spaces, we can enhance your environment with a seamless installation.
Our team is made up of highly trained and skilled professionals who are eager to work with you to design and customize your furniture glass at a price that suits you.
Cut to Size
One of the easiest ways to customize frosted glass for your interior is by choosing what size it is cut to. Because some projects might need a larger piece of glass than others, we at CM Glass will discuss the size of your custom glass with you to ensure a satisfactory purchase.
Because there are many different ways you can incorporate frosted glass into your home or business to enhance its beauty, CM Glass is open to working closely with our customers and listening to their ideas to truly understand the image they're trying to achieve.
Cut to Shape
Not all projects utilizing custom frosted glass require the same shapes. Another easy way to customize your frosted glass is through the shape that it is cut in.
At CM Glass, we are experienced in cutting glass into a variety of shapes, so you don't have to worry if your project requires a unique shape.
Our team of professionals will customize a sheet of glass's shape to perfectly fit your interior, allowing it to blend seamlessly into your current design once installed.
Colors
If you're not a fan of normal glass, incorporating color into traditional glass is the perfect way to customize it to your unique personality and style.
Clear glass can be frosted and tinted, too. Combining the two is the perfect match, leading to several benefits and visual appeal that is sure to work well with any aesthetic.
If glass is already frosted, a tint can be added to either the frosted or the unfrosted side. The process is similar to tinting standard glass and creates a colorful contemporary piece that will fill your home or office with bright energy.
Special window tints and adhesives are manufactured and available for frosted glass, too.
Styles
If you aren't sure what style of frosted glass will work best for your home or office's interior design, our experts are ready to help you decide.
Whether you need our assistance selecting a style that matches your current interior design or would like to incorporate a new style with custom glass but you aren't quite sure how to get there, contact us for a free estimate.
Types of Frosted Glass
Frosted glass is available in a few different types, all of which have their own unique appearance, traits, benefits, and weaknesses. When selecting a type of frosted glass to customize for your environment, it's important to take each type into consideration.
Acid-Etched Glass
As one of the most popular types of frosted glass, acid-etched glass is both durable and easy to maintain.
It is created by treating annealed glass with hydrofluoric acid, leaving it with a smooth finish that is smudge-proof, as well. Acid-etched glass is the perfect option if you prefer your surfaces stainless.
Because of its durability, it can be used for doors, walls, shelves, railings, and more.
Sand Blasted Glass
To create sandblasted glass, sand is deposited onto the surface of clear glass with fast-moving air. Through this process, the previously clear glass gains a cloudy and frosted appearance.
Because it is an opaque type of frosted glass, it is best used for privacy such as in showers, walls, and doors.
However, unlike acid-etched glass, sandblasted glass is not stain-proof and requires proper maintenance to keep its surface clean.
Translucent Interlayer Laminated Glass
Translucent interlayer laminated glass is a type of frosted glass that has two or more panels of clear glass fused together with an adhesive interlayer.
This type of frosted glass maintains a high level of privacy due to its translucent interlayer, while also being UV safe and strong. It is typically used for more high-profile purposes.
Ceramic Frit Silk Screened Glass
To create ceramic frit silk-screened glass, the ceramic frit is applied to a clear glass surface using a fine mesh screen and glass enamel.
Once this step is completed, the glass is heat strengthened or tempered. This causes the coating to become permanent.
This type of frosted glass is most often used for commercial purposes such as building facades and storefronts. Custom tempered glass is the perfect way to maintain your company's brand and aesthetics from the inside out.
At CM Glass, we create custom tempered glass following strict quality control protocols that ensure its strength with the knowledge and experience to produce and craft tempered glass pieces that fit any of your interior design needs.
Where Is Frosted Glass Utilized?
There are many places in both residential and commercial properties where frosted glass can be used, whether it's for decorative aesthetic purposes or to increase privacy.
Shower Doors
As one of the most popular uses of frosted glass, glass shower doors are the perfect places to incorporate custom frosted glass.
Frosted glass shower doors are a great way to both maintain privacy while showering and incorporate a statement piece into your house's bathrooms.
Glass Doors
While clear glass doors can be quite stylish, they do not offer the privacy that frosted glass doors provide. By utilizing a frosted glass door, you can maintain the aesthetic value of a door without compromising your privacy.
Frosted glass doors are also a great way to separate areas of your home, encouraging privacy between rooms while still maintaining that connection.
Commercial glass doors are also a popular option for custom frosted glass. In fact, at CM Glass we know that the customer experience starts with the exterior of your business. We create custom glass commercial doors designed with your brand in mind.
Using glass doors allows natural sunlight to pour into your business, creating a brighter and more attractive space. They are also incredibly elegant.
Glass Tables
Glass tables are a great choice for custom frosted glass, as they are such a central piece to so many rooms.
Whether you are interested in customizing frosted glass for a dining room table, coffee table, end table, or any other kind of table, contact GM Glass for custom glass you will love.
Frosted glass adds an elevated touch of style to your tables, bringing a wow factor to your space.