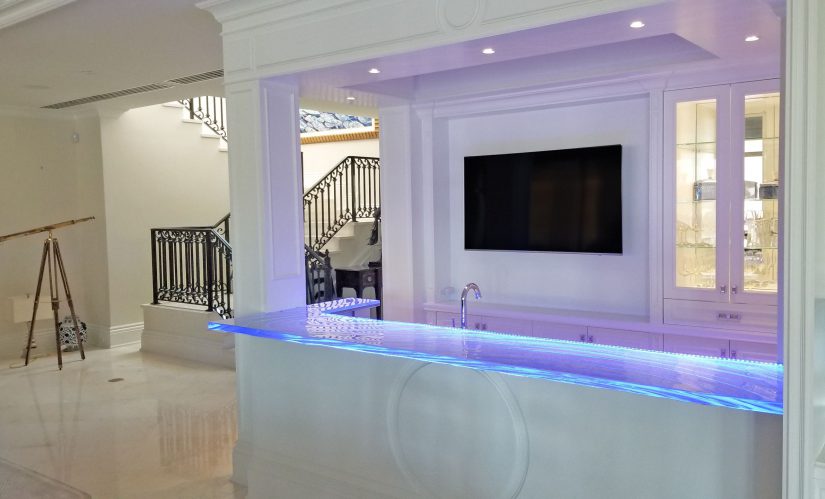 Tempered glass has been transformed from a simple piece of utilitarian material to an architectural wonder due to its thermal properties and long life. To create it, annealed glass must be heated in a special furnace through a tempering process until it reaches uniform and very high temperatures. Once it reaches the perfect temperature, it is quickly cooled down, which puts it in a compressed state while its core stays within the ideal tension. This allows the tempered glass to be many times stronger and have more than five times the mechanical stress of the original annealed glass. At CM Glass, the entire process follows strict quality control protocols to ensure its strength.
When heat-treated tempered glass breaks, all its stored energy is released, making the glass shatter into small pieces. At CM Glass, we have the knowledge and experience to produce and craft tempered glass pieces to fit all of your home's interior design needs.
Schedule an appointment today, and we will be glad to stop by your property and provide you with a no-obligation estimate for tempered annealed glass that will transform your business or home. Our ordering process for any type of safety glass is simple, and the results will amaze you.
Advantages of Installing Custom Tempered Glass
Think of tempered glass as safety glass or toughened glass simply because of what happens when it breaks into many small pieces. The small pieces of glass are much less of a danger to you and your loved ones than the characteristic large shards of normal glass, which can result in serious injury.
To enhance your home decor, select tempered glass sheets. Custom-cut glass can be installed in the following ways:
Glass walls
Glass doors
Frameless shower doors
Fireplace glass
Table covers
Picture frames
Ceramic glasses
Halogen lamps
Heat-treated gas stoves
When you work with the tempered glass experts at CM Glass, you will have a true customization process for your safety glass pieces. This includes the ability to select edge types, glass that is custom cut to size, unique edge work, glass thickness to meet your project's needs, and glass furniture with the hardware of your choice.
We can stop by your property to talk about your custom glass needs and give you a no-obligation quote. You can also stop by our custom glass showroom and get some ideas for a truly unique result whether you have a professional contractor overseeing your project or when you like to undertake any DIY projects that go beyond regular glass.
What makes tempered glass different?
Tempered glass is different from regular glass because:
It is up to five times stronger than annealed glass of comparable thickness and size.
It can withstand temperature changes of up to 250 degrees.
When glass is tempered, it does not change any of its qualities such as light transmission.
It is considered safety glass and is very hard to break. The pebbles that result when glass shelves break do not pose a risk of injury.
Once it is tempered, the glass cannot be etched, carved, altered, or polished.
Tempered glass products can be laminated, back-painted, or printed on without any ill effects on the glass.
What are the preferred areas when it comes to installing tempered glass panels?
There is no match for tempered glass products in areas where safety, thermal resistance, and strength are required. By tempering the glass, its strength is increased, also increasing its ability to withstand heat.
Find out if the building codes in the area where you live call for tempered glass in certain areas.
Some Decorative Tempered Glass Projects
Adding a touch of tempered glass to any room will make it stand out and command attention. From a back-painted tempered glass partition in an office to a colorful glass table top or a series of custom-cut glass shelves, or beautiful glass tempered shower doors, tempered glass has earned its place of honor among the top aesthetic designs for every project.
Glass Shower Doors
At CM Glass, we take great pleasure in offering a wide range of glass shower door options to complement any design concept, no matter how small or large the bathroom is. Modern tempered glass shower doors can meet all of your design and functional needs.
When you install a glass shower door, you know your home will have something easy to clean that will last for years to come. Even the smallest space will look larger with a clear tempered glass shower door. Add some glass shelves, beautiful mirrors with different edge types, and unique bathroom hardware, and your project will be complete!
Create Unique Dining Areas
Even the darkest dining room can look larger and brighter with a custom glass table or table covers with seamed edges in the shapes and thicknesses that you require. Your custom glass pieces can be back painted in the color of your choice to match your design aesthetic. Let your imagination run wild with the tempered option that will raise your creation to a different level of sophistication.
Tempered Glass Kitchen Backsplash
Kitchen backsplashes have grown in popularity due to the amazing selection of possibilities. Yet, nothing will match the outstanding result that a tempered glass backsplash will add to your kitchen. In today's modern kitchens, a custom tempered glass backsplash will make a statement and give a strong impression to your loved ones and guests.
Installing tempered glass in your kitchen means you are installing safety glass that will never break into pieces larger than a pebble. Also, think about the ease of cleaning that a tempered glass backsplash offers. Forget about grout lines and think about the clean lines a tempered glass backsplash will provide. It is truly an unsurpassed look.
CM Glass – Your Tempered Glass Destination
Whenever you need tempered glass, replacement glass, or custom glass in the shape and thickness that you require, CM Glass is here for you. From mirrors and windows to custom glass table tops, we have the expertise to fulfill your needs.
Call us today, and let us start making your project come to life. We offer no-obligation estimates in less than 24 hours. You will personally experience the difference that working with CM Glass makes. Let us have a look at your project and plans and present the best options to fulfill your design.