Custom Mirror Walls
A custom wall mirror can turn your home into a more elegant space in an instant. It opens up spaces so that small ones look larger. Even larger rooms can create an illusion of more light.
With custom mirrors Miami, you can open up the possibilities to greater design in your world. Decorative wall mirrors will never go out of style while always bringing a sophisticated ambiance to your space.
CM Glass Miami is the top choice for custom glass in Miami. Serving the local area as well as shipping our custom mirror creations far and wide, our mirrors reflect our own high standards of excellence.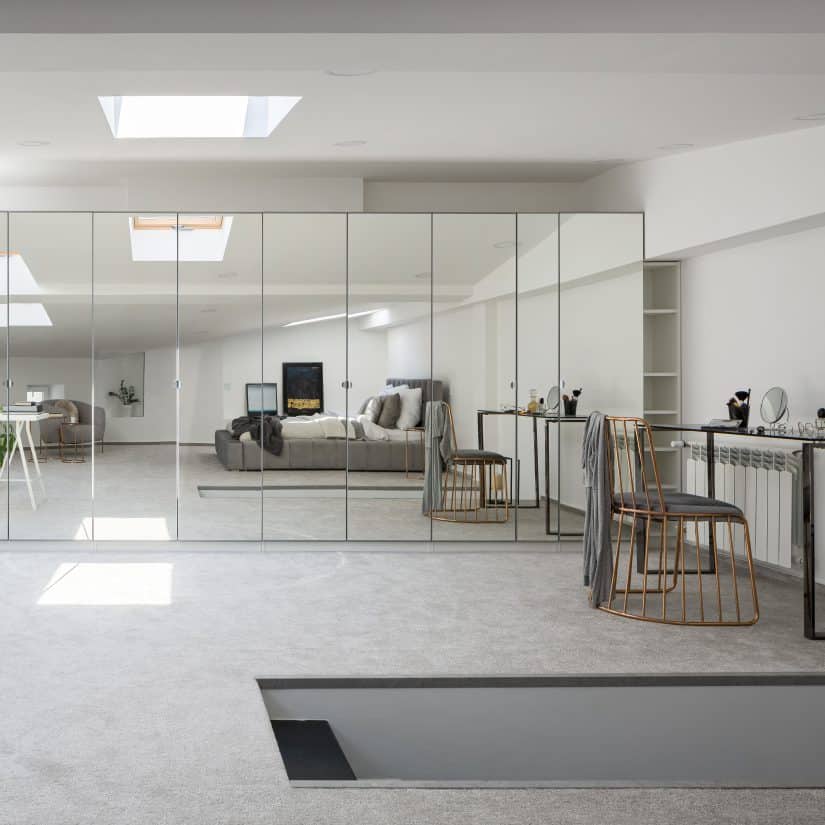 Custom Mirror Ideas
Whether you choose a framed mirror or frameless mirrors, this form of glass will enhance your spaces. Decorative mirrors that have flat polished edges can look superb above your bathroom vanities and make the space appear larger.
Custom mirrors also add more natural light by way of reflection. Placing a custom mirror wall in just the right location opens things up to give you a brighter interior. Wall mirrors and panel mirrors are especially popular for these effects. In fact, this is why they are used in gyms.
To get a custom mirror wall that fits your space, contact CM Glass Miami today to get a free quote on your exact specifications.
Customize Your Own Home Gym Mirror
Even better, you can take glass partition walls in Miami to the next level by converting any space in your home into a gym. CM Glass Miami has many mirror frame styles to choose from including minimalist styles and custom antique mirrors.
You will need to calculate how many mirrors you'll need for a home gym setup with custom mirrors for your wall. Using the right hardware to hang them is important, even with safety backing. This can prevent accidents from occurring while keeping your custom mirrors in place for years to come.
Custom Mirror Edge Types
When CM Glass Miami creates your wall mirror, you will need to choose the edge type in addition to the size. Here are some of the most popular options, though we are able to craft a custom mirror to your specifications and design desires.
Flat Polished Edges
With edges that are polished and flat, you will give your custom mirrors a smooth and shiny finish. This is a nice match for minimalist designs.
Beveled Edges
A beveled edge mirror gives you a cut and polished look at angles for a special look. The edges are thinner this way and the center is thick. While a bevel is used for mirrors that serve as a focal point, they can be used for wall mirrors too.
Seamed Edges
Seamed edges are an ideal option if you are choosing a framed mirror. This type of edge work would be a good choice for a full-length mirror or set of them in panels. There are a variety of mirror frames you can choose from to create the style you want in your home.
Installing Custom Mirrors
To install your custom mirrors, there are several options. Ultimately, CM Glass Miami recommends that you choose a sturdy section of your wall, preferably on studs for mirror installation. Mirror mastic along with decorative clips of J-bars will give your mirror extra support.
Mirror mastic is ideal for any area with high humidity. If you are converting your garage into a home gym, you may want to go for this option. Decorative clips can create a special touch and enhance the look of quality your custom mirror. You'll find them in chrome, brass, and brushed nickel.
You can also use J-bars or L-bars that are ideal for supporting heavier mirrors. These will create a more minimalistic look.
How to Use Mirrored Walls in Your Interior Design
Contemporary mirrors for your wall can easily blur the boundaries of your rooms and visually increase space. This optical illusion can be used in an arched opening to make it seem as though hallways, bedrooms, living rooms, and other places in your home are larger than they appear.
Mirrored walls create a unique geometric style for your home decor regardless of frame style or if they are frameless. You will find things look brighter when you place custom mirrors in your home. From your living room to any room, you'll have a unique look that is your own.
Create Custom Wall Mirrors with CM Glass Miami
As a family-owned business, CM Glass Miami has been providing top-tier custom designs with mirrors for homes and businesses. With over 30 years in the industry, we provide the designs you desire while going above and beyond to ensure we raise the bar on standards every time. Contact us today to get a free quote on wall mirrors.
Mirror Gallery
Browse through some of our recent work by visiting our Mirror Gallery. Our gallery has beautiful photos of projects we have completed. Our gallery can inspire new ideas or add to your current projects. We hope you enjoy it! If you prefer to see our work up close, please visit our showroom. We hope to see you soon.
TAKE ME TO THE GALLERY