Thinking about adding a quick update or changing the look of your home may have you considering some glass furniture pieces.
Glass is a beautiful addition to any home. It reflects light and compliments any style of furniture. We sell glass coffee tables at affordable prices. Not only are they stylish, but the glass tops are also easy to clean.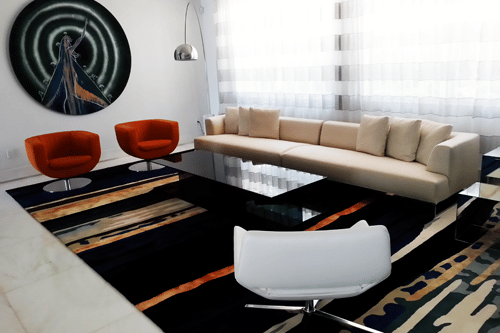 Including a custom glass dining table, glass patio furniture tops, glass desks, and glass kitchen countertops are a stylish and functional idea that will enhance the look and functionality of your home's spaces.
At CM Glass, we have the experience you are looking for when you want your unique needs of custom glass in Miami transformed into a beautiful reality.
Whether you want to add glass shelves to your China cabinet, your office, your bathroom, or anywhere else, or if you need a protective glass top for your wooden table, we have the expertise you require to satisfy all of your glass furniture wishes.
Glass Furniture
The variety of glass furniture pieces we can design and make for you will satisfy your glass furniture needs. Here are some ideas of the types of glass furniture pieces we can fabricate for you.
Glass Table Tops
When you place a glass tabletop in your dining room, kitchen, office, or anywhere else in your home, you are getting a surface that shines, looks elegant and beautiful, and is also easy to clean and simple to maintain.
A glass tabletop can make any space look more open and feel larger. If your design calls for it, we can readily work together with vendors to add wood, and metal, or have our designers create a concept for a custom glass base in a wide variety of designs to enhance any room's aesthetics.
And if you have cherished pieces of wood furniture but are worried about getting permanent scratch marks or drink rings on them, having a glass top made to size will protect your prized pieces.
At CM Glass, our team of glass experts can assist you in selecting the perfect glass tabletop to fit your space, lifestyle, and budget. Visit our showroom today to get started.
Glass Shelves
Glass Shelves are an excellent way to update your current setup. All of our glass shelves are "custom made to order" so you can be as creative as you want to be. Glass shelves can be placed in the kitchen, bathroom, living room, bedroom, and many other places around a home or office.
Tell us your ideas and we will convert your vision into beautiful glass shelves in Miami that you will enjoy for many years to come. From floating glass shelves to custom metal ladder shelves, your options are limitless. We invite you and your guests to visit our showroom. We will help you choose the glass, brackets, and style you need at the price you want.
Come by and visit our showroom to get a closer look at our work and get started on your project. We hope to see you soon.
Glass Shelves Shapes
Corner glass shelf
Square glass shelf
Rectangular glass shelf
Custom-cut glass shelf
Pattern-cut glass shelf
Glass Shelves Finishes
Matte edge
Flat polish edge
Beveled edge
Pattern cut edge
Frosted / acid etch glass
Clear, Starphire, bronze, or grey glass
Rounded corners
Glass Shelf Ideas
Bathroom Shelves
Wall-mounted shelves
Kitchen cabinet shelves
Kitchen open shelving
Living room accent shelving
Furniture Shelves
Floating shelves
Mirror shelves
Custom-cut shelves
Thickness ⅜", ½", ¾"
Glass Writing Desks
A glass writing desk adds a sophisticated look to any home office. Tempered glass is very durable, so you can put all the office equipment you need on it. You do not have to worry about scratches showing up. The desks are lightweight, so you can change the furniture in your office occasionally.
An office with a glass desk simply looks lighter and brighter. A brighter office will keep you on your toes when you have to work. It will brighten your mood and motivate you to get more done.
Glass Bookcase Sideboard
A bookcase sideboard is a great way to add extra storage space to your home. A sideboard is a cabinet that sits beside a bookshelf. There are sideboards that are made entirely out of glass and those with glass cabinet doors that let you see what is inside of them. A bookcase sideboard is not necessarily for books. You can display plates or trinkets in them. It is a great place to store that collection of classic records or magazines.
Round Adjustable Height Table
Do you occasionally have parties and find yourself without a place to put the hors d'oeuvres? An adjustable round table is a perfect solution to this problem. The table can adjust to standing level for your next cocktail party. It is the perfect table on which to put snacks and drinks. When the party is over you can set them at a lower height and use them as end tables in the living room. Glass bar tops are also a great option for people who have a lot of parties.
Night Table
You keep everything from books to medications, snacks, and drinks on a nightstand. You can spill something on a night table without even knowing it. If you have a wood table, a spill can mess up the finish. If you accidentally set a hot cup of liquid on it, it can ruin the wood forever. If you spill something on a glass table, all you have to do is wipe it up or use a little glass cleaner. If you think a glass table will not go with your other furniture, remember that we can paint it any color that you like.
Custom Glass Furniture
Have our team of in-house designers help you design your full glass modern furniture pieces.
As seen in many popular furniture stores, CM Glass can create a beautiful statement table made of glass to accentuate your existing furniture. From console tables to night stand tables and side tables. CM Glass can help you add a little or HUGE touch of class in your space. All our furniture pieces are fully custom made to order to fit the specifications of your space.
Contact us today with your ideas and have our team make your dream come to life..
Patio Glass Furniture
When your design calls for glass furniture in outdoor spaces, you have come to the right place. At CM Glass, we understand that outdoor glass pieces require special considerations.
Considering a summer kitchen, have us add a touch of elegance with a custom glass bar top.
That is why our glass technicians will offer you glass patio furniture made from tempered glass because we know you want something that will last and that means withstanding the elements.
(don't add this in just yet. I'm not too sure how I feel about promoting this. It really isn't the safest unless it is anchored down with hurricanes and strong winds in miami.)
Tempered Glass Table tops for Outdoor Furniture
You know that having a glass tabletop outdoor means the possibility of it breaking or shattering, but we want you to rest assured of the quality of the outdoor glass products we offer.
We will never use thin or poorly manufactured glass for outdoor pieces. Our glass tabletops for patios or decks are made from tempered glass.
This means the glass has been strengthened to withstand impacts that would break other types of glass. It's glass that can give you peace of mind.
Why You Should Trust Our Company
CM Glass Miami is a family-owned business. We have created elegant-looking glass furniture and home accents for the last 30 years. We work closely with our customers to design a home that reflects their tastes and personality. We have a team of design professionals who are committed to your satisfaction. We will work within your budget and supervise every aspect of labor, delivery, and installation.
Custom Glass Shelves Gallery
Browse through some of our recent work by visiting our Artistic Glass Gallery. Our custom glass shelves gallery has beautiful photos of projects and shapes we have completed in the past, many of which can fit your needs.
Viewing our gallery can inspire new ideas or add to your current ones. Either way, we hope you enjoy the gallery! If you prefer to see our work up close, please visit our showroom. We hope to see you soon.
TAKE ME TO THE GALLERY