Glass is a highly versatile and multifunctional building material. In recent decades, it has become the symbol of modernity and urban lifestyles. People naturally gravitate towards open and light spaces, so installing a glass wall will bring that sophisticated and modern look that many of us are after. Integrating architectural glass is an affordable and sustainable option for many, which explains the rising demand for glass partition walls.
We have over 30 years of experience working with all-made glass at CM Glass Miami. We understand that even the most challenging project can turn into a breathtaking design. Regardless if it is a commercial or residential purpose, our glass panels will ensure high quality and functionality. Contact us today and ask for a free quote!
Glass Walls Create a Timeless Interior Design
Glass wall systems are a fantastic alternative for transparent room partitions. They can be transformed into sliding doors, office spaces, and even closet doors. They can open, divide and separate the space according to the desired use. A great variety of possibilities and options are designed to fit into any style of architecture.
Even the typically small and dark apartment can be completely changed into something stylish and functional. In any context you can think of, glass panels are superior to solid doors. In a commercial building, you can offer each employee a small office where they can enjoy their privacy, an open space, and a comfortable feel.
Benefits of Installing Glass Partitions
There are many misconceptions about glass walls, especially about cost, admittance, and safety.
However, our team at CM Glass Miami is ready to answer any questions. We will be by your side during the installation and explain everything from materials to the layout. Please request a free quote from our staff and let us redesign your projects for modernity.
Architectural glass has many benefits, so here are some that can help you understand the material better.
Vision Expansion
Residents of any large city are already aware of how inefficient most rentals are. Tiny apartments can be improved and made more adequate for the modern lifestyle. The options here are unlimited – it can be a full-height wall, a swing door, a metal frame with glass on top, a partial room divider, or even an entire glass wall.
If you design to install this system, you will immediately notice the difference. Solid doors and opaque partitions can limit the natural light and space in the room, leaving residents or employees feeling isolated and cramped.
Superior Acoustics
Essentially, the noise of people working outside or talking together can create a chaotic work environment that can degrade focus for anyone and delay productivity. Here, glass office partitions are the perfect solution. Their design allows for beautifully modern office space while keeping the noise of a conference room out. Enclosed multi-story buildings can be extremely noisy, affecting the employees' well-being. There is no place for essential phone calls or meetings without any acoustically ambient space.
Energy Savings
Office partitions can be very effective in reducing energy consumption. Dividing the space between rooms will allow for more efficient air conditioning and heat distribution. This ensures that the specific corner and enclosed room will never be too warm or cold. Specialized polarized and insulated glass on exterior windows also helps to lower energy bills.
Radically Rapid Reconfiguration
Regardless of what your plans are, glass walls can always accommodate your needs. If you want to reconsider your dimension, add a few more offices, or completely change your system, glass forms are the best solution. Glass partitions have many advantages over traditional walls. As an example, the installation process is quicker, easier, and more affordable, which will allow you to focus on your company or house.
Affordability
Besides being easily reconfigured and easy to move, glass walls can accommodate almost any budget. Once installed, they can easily be moved for a much lower replacement cost than solid walls or drywall. Initially, they can be costly, but in the long term, you can remodel your entire floor with minimal effort, all while conserving energy.
100% Safe!
Most glass partitions are made from tempered or laminated glass. That manufacturing process is the same one used in construction buildings, transforming fragile material into industrial material. Laminated glass is used, for example, in automobiles due to the fact that the vinyl layer between the glass stops it from being hazardous and dangerous. That manufacturing process is the same one used in construction buildings, transforming fragile material into industrial material.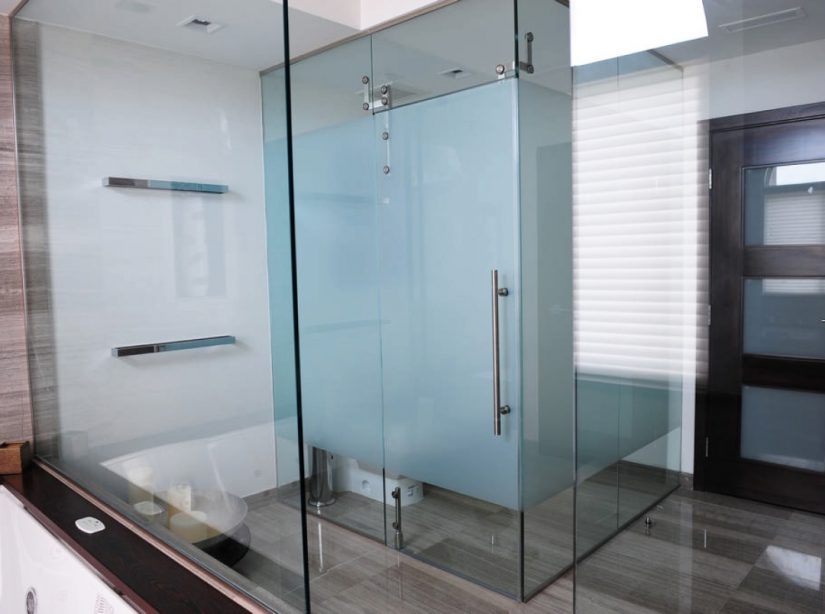 We worked in this field for over 30 years here at CM Glass Miami. Reconfiguration projects can be overwhelming, but we are here to help smooth the process. If you have any questions or you didn't find the exact information you were looking for, contact us and let us know. We are here for you and we can make your dream come true!
Glass Wall FAQs
How Much Does a Glass Partition Wall Cost?
Typically glass companies charge $35 – $80 per square meter, but it vastly depends on the manufacturer, firm, installation, and the overall complexity of the project. Usually distributors also take care of design and installation, which can help you cut down costs on larger projects.
Are Glass Walls Cheaper?
Glass walls are typically more costly than traditional materials, such as bricks or wood drywall. However, glass installation costs are much more profitable in the long term. Unlike concrete walls, the cost remains constant, and the option of remodeling is always available.
Which Glass Is Used for Office Partitions?
Frosty glass is used for this application. There are other types of glass with transparent surfaces that are used to reduce visibility, though. Such glass can be customized with different shapes, textures, and models to fit the company's aesthetic.