Nowadays, people seem to have fallen in love with frameless bath enclosures, and the reasons for that are plenty. Mostly, they offer a modern, clean look to any bathroom where they are installed. At CM Glass, we know that frameless shower doors give homeowners the most stylish option when it comes to modernizing and updating the way their bathrooms look.
If you are looking for that unique appearance for your bathroom, you know that nothing will satisfy you more than brand-new frameless bath enclosures Miami, FL from CM Glass.
Wait no more and give us a call today. We will gladly stop by your home to see the area and offer you our best designs solutions. You will not believe the change a new frameless bath enclosure will make!
Why do Miami, FL homeowners prefer frameless shower doors?
There are many reasons to select a frameless glass door; among them:
You Can Select From a Variety of Sliding Door Design Options
At our custom glass studio, we will show you a wide variety of configurations, styles, and sizes of glass doors to fit your needs.
Even though these doors do not call for metal frames, you can add a touch of interest to your sliding door by choosing to add a metal handle or hinge. Or you might be inspired to add a metal enclosure to one side or around the top. Whatever your imagination can dream of, we can make it a reality. Visit us today.
They Are Easier to Keep Clean and Maintain
Not having a frame makes it much easier to keep glass doors clean. And, should you need a part replaced, all you need to do is give us a call. Forget about the endless hunt for that piece of hardware that is no longer available from the manufacturer. A frameless shower door offers you fewer components to worry about.
They Become the Centerpiece of Bathroom Design
The beauty and light that a glass shower door brings to any bathroom make it the centerpiece of the bathroom's design. It is impossible to enter a bathroom with a frameless door and not turn around to look at it right away; it is too attractive to ignore.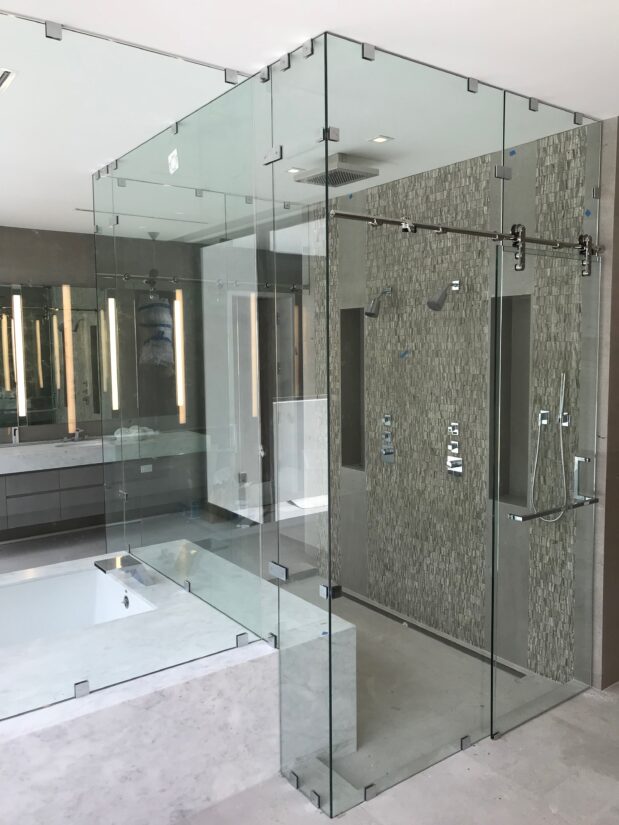 Styles of Frameless Shower Doors
Frameless shower doors offer you the convenience of having them swing or slide. Depending on the shape and size of the enclosure that your bathroom needs and taking into account your preferences, you may have a single swinging door or two sliding doors.
Swinging Doors
If you are leaning towards a swinging shower door, there must be enough clearance for the door to move freely without hitting any object or having anything blocking the entrance.
Building codes indicate that swinging shower glass doors must be installed to have the possibility to swing outward even if you only want it to move inwardly.
Sliding Doors
Many homeowners prefer a sliding shower door, particularly in bathrooms where space is an issue, and it is not possible to have room for a door to swing outward. Sliding doors have evolved to achieve the modern frameless look, and you can install a barn-style glass shower door that glides along an upper metal bar. One panel can be hung next to a fixed glass wall, and if the shower is large enough, you can consider a set of double barn doors flanked by a solid piece of glass.
Types of Frameless Shower Doors
Frameless shower doors are usually fabricated from tempered glass. This provides homeowners with both durability and safety. However, although there are many different types of tempered glass, clear tempered glass seems to have won first place in homeowners' preferences for several reasons, such as:
If your shower stall features beautiful and intricate tile work, a clear glass door will allow you to showcase it, unencumbered by framing.
By installing a clear shower door, your bathroom will look lighter and roomier.
Clear glass gives the appearance of larger, more open spaces, giving bathrooms a distinctive modern look.
Clear glass is much easier to keep clean than textured glass.
If you are thinking about installing clear glass, at CM Glass, we offer you the option of going with standard clear glass or ultra-clear glass. Ultra-clear glass has less iron content, thus minimizing any greenish discoloration that tends to happen at the edge of glass panels.
You can also have your shower door treated with ShowerGuard to permanently seal it and avoid discoloration, corrosion, and staining.
Different Glass Options
There may be different reasons you might need a shower door that is not completely clear. You may need privacy, or the bathroom design might call for a special glass. Some possibilities you may wish to consider are:
Frosted or acid-etched glass – This is also a popular option when it comes to creating a secluded shower space. You can have a uniformly etched piece of glass, or you may want a design etched onto the glass.
Pattern glass – There is an assortment of patterns you can choose from to achieve the perfect look for your bathroom.
Tinted glass – several colors are available to complement the look you are trying to achieve.
Cast glass – This is a heavily textured glass that is manufactured by pouring molten glass into a mold. There, it hardens and forms the cast glass. It is not only distinctive, but it also offers a more private shower experience.
Call CM Glass Today
Give us a call whenever you are ready to begin designing your frameless bath enclosure. We are ready to start working to give you the perfect shower door to enhance your bathroom.