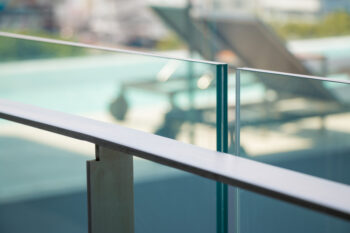 Fencing is an essential safety feature of any pool area. A lot of people don't want to put a fence around their pool because they feel it is an eye soar. In some cases, they may think it is inconvenient to have to go through a fence every time they want to access their pool. Pools are very expensive and people who have them like to be able to look at them through their windows. A fence can get in the way of that.
7 Reasons to Replace Your Pool Fence With Glass
There are seven basic benefits to purchasing a glass fence for your pool area.
1. Fencing Is Required in Miami
In Miami, all new construction of public swimming pools, spas, and hot tubs must have a permanent barrier. It must be at least 48 inches above the grade.
If you do not comply with this law and someone injures themselves in your pool area, they can sue you. However, a fence doesn't have to be an eyesore when you order it from CM Glass Miami. We can provide you with a beautiful glass fence that will not obstruct the view of your pool.
2. It Keeps Children and Pets Safe
Pool fencing will stop your pets and your kids from getting into the pool area when you are not around. You can lock the gate for an added level of security. We can even add glass railings. Pool areas can be slippery and a railing system will add an extra level of safety for your family.
3. It Is a Durable Option
We can design a fence made with tempered glass which is much stronger than regular glass. Regular glass would not be strong enough to use for fencing material because it could shatter and be dangerous. Tempered glass does not shatter. It is used for shower doors and windshields. It is the perfect material for glass pool fences
Miami has some terrible weather during hurricane season. Tempered glass can resist winds that are up to 90 MPH. In the unlikely event that the glass breaks, it will crumble into round beads. It will never break into shards because of the way it is made.
4. It Is Break-in Resistant
It is not uncommon for a thief to enter a property through the pool area. A glass fence is awfully hard to climb because it is smooth and slick. There is no foothold for a person to use if they are trying to get onto your property.
We can create a fence that is self-closing and latching, so you will never have to worry about accidentally leaving a gate open. You can lock the fence when you are not using it.
5. It Lets You Keep an Eye on Your Kids
Unfortunately, drowning is a leading cause of death for small children. A child should never be unsupervised when they are playing in a pool area. A glass fence will let you see everything that is going on in your pool area. Frameless glass pool fencing is almost invisible so you will not have any obstacles in your way.
6. It Looks Great
You will find glass pool fencing in some of the finest hotels in town. A frameless glass pool fence adds an elegant touch to a home's exterior.
7. It Adds Value to a Home
Property owners love fencing with glass panels. Any architectural glass is a worthwhile addition to your home. Tempered glass lasts a long time. You may never have to buy a new fence. It will add plenty of resale value to your home.
CM Glass Miami has been in business for over 30 years. We are staffed with a team of professionals who are committed to providing the best service possible. Call us today.